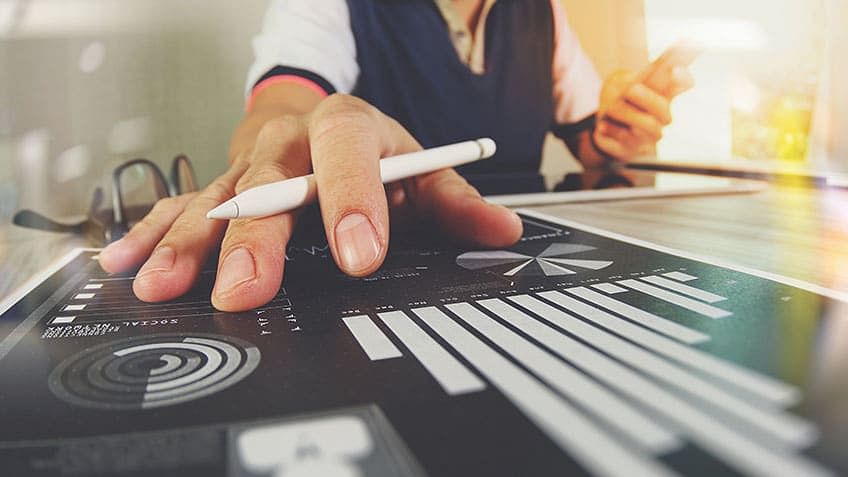 What is Business Intelligence?
Business Intelligence refers to a set of processes and technologies that convert raw data into usable and meaningful information to make profitable business decisions. It is an umbrella term that combines data mining, data tools, business analytics, data visualization, infrastructure, and best practices to offer quick-to-digest data summaries and aid an organization in making more data-driven decisions. BI serves enterprises to unlock sales and marketing potential, and innovate new business capabilities.
BI is used to drive change with an organization, and help eliminate its inefficiencies by swiftly adapting to changing market dynamics. Business Intelligence systems are primarily data-driven Decision Support Systems or DSS.
BI covers the methods. and architectures of collecting, storing, and analyzing. and presenting data from business activities. All this information is integrated through BI systems to arrive at a comprehensive view of a business and help it make actionable and improved decisions.
The book — Business Intelligence for Dummies — by BI guru Swain Scheps is an excellent resource if you wish to get a more in-depth understanding of BI and how it helps organizations create an environment for better decision-making.
BI tools are business intelligence technologies that support businesses in understanding trends and give easy access to powerful data analysis capabilities. Business Intelligence software and tools are used to achieve an array of other things, including business growth, resolution of urgent issues, or predicting future outcomes. All available BI systems help businesses to come up with strategic decisions. A long list of BI tools is available in the market, and wading through them can be a daunting exercise.
A BI tool's primary function is to filter relevant business information and project an analysis over a given timeframe. The most important features and functionalities that an efficient business intelligence tool should have are:
Dashboards
Visualizations
BI Reporting Tools
Predictive Analytics
Data Mining
ETL – extract transfer loads – tools that transfer data from one datastore to another
OLAP – Online analytical processing
Drill-Down
According to BI experts, dashboards and visualizations are the more popular BI tools.
Many competent BI systems are entering the market every day. The demand for these tools continues to grow because of their design and capacity to digest massive chunks of data, decipher these data sets, and provide companies with a visually appealing and easy-to-understand graphical representation of business trends within a given timeframe.
Now that we have learned what is Business intelligence, let us understand how BI works.
How Business Intelligence Works?
Companies gather and analyze the necessary data to find answers to questions and track the progress of their business goals. This gives them the insights needed to determine action points to achieve their business objectives.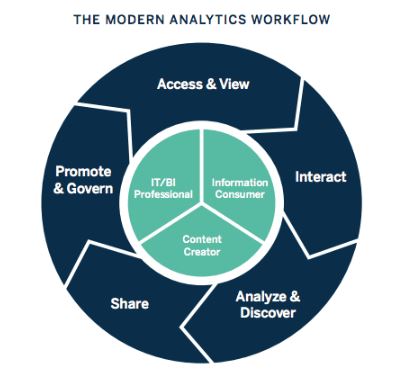 Source: Tableau
Technically, raw data is collected, processed, and then stored in data warehouses. Once it's stored, analysts can then access the data and start the analysis process to answer business questions. Once reporting is completed, archetypal BI tools like dashboards come into play that automatically collate this data and represent this into graphs and charts to give insight into the business's immediate state. Amazon predicting buying recommendations while purchasing at the e-commerce site is an excellent example of using BI tools.
After having learned what is Business Intelligence, let us look into the examples of BI.
Example of Business Intelligence
In another case, if a company wants to improve its supply chain management, it needs BI technologies to determine the specific problems within its supply chain process, like determining the source of the delays and identifying the inconsistencies that lie within the supply process.
BI capabilities of the company can also be used to indicate which modes of transportation are involved in delaying the process or supply of which products are most commonly getting affected or delayed due to this.
Now that we learned what is Business Intelligence, let us next understand how different it is from Business Analytics.
Business Intelligence vs. Business Analytics: What's the Difference?
Business intelligence is descriptive and tells you what the current situation is and what happened to get us to that state in the past. Business analytics, on the other hand, is an umbrella term for data analysis techniques. Business analytics helps predict what is going to happen in the future and prescribes what you should be doing to create better outcomes.
After having understood what is Business Intelligence, let us learn its place in today's business environment.
The Place of BI in Today's Business Environment
As business operations tend to get more complex with each passing day, an increasing number of big and small companies are getting less time to research, analyze, and innovate. Winning over competitions require meaningful business insights. However, with an ever-increasing pile of cluttered and unorganized data, companies are struggling to investigate and make sense of all of it in real-time.
As a result, companies are in growing need of technologies that will support them in streamlining their efforts towards arriving at business insights or predicting trends and give them the capability to implement changes and quantify results. BI serves this purpose and helps businesses spot market trends and identify business problems by showing present and historical business data. Effective use of BI can help companies carry all functions smoothly – from hiring efforts to compliance issues.
Here's a look at some of the ways in which business intelligence helps companies make smarter, data-driven decisions.
Analyze customer behavior
Track performance by creating Key Performance Indicators (KPIs)
Optimize operations and set benchmarks for varied processes
Generate sales and delivery reports from CRM data automatically
Discover issues or problems within their operations, quickly and accurately
Spot market trends
Predict success
Identify ways to increase profit
How is BI Making a Difference?
Business Intelligence is acting as a backbone for modern businesses today. Smaller companies like Tableau or QlikView are making commendable strides in making data analysis visually appealing and easy to understand. These graphical and visualization abilities are making BI tools an essential part of any business. And, companies that are deploying BI tools are growing faster than the companies that are not.
After having learned what is Busines Intelligence, find out why to build a Business Intelligence career.
Why Should You Build a Career in the Growing Technology of Business Intelligence?
Currently, business intelligence is one of the most in-demand innovative technologies poised to revolutionize the future. The global Business Intelligence market accounted for US$16.33 billion in 2015 and is expected to reach US$26.50 billion by 2021, growing at a CAGR of around 8.4 percent between 2015 and 2021 — a report by Zion Research found. Many top tech players like SAP, SAS, IBM, etc. have been dabbling with BI technology since the days of its inception.
Scopes and Perks
BI experts are enjoying high salaries that range from $118,709 for a Data Scientist to $62,379 for a data analyst.
BI is expanding and opening up opportunities – it is no longer limited to business analysts; various other professionals are needed to run BI systems smoothly and efficiently.
Here are some of the job roles that require BI-based skills:
BI Semantic Model Developer
Business Intelligence Project Manager
Business Intelligence Developer
Business Intelligence Analyst
Business Intelligence Administrator
Business Intelligence Manager
SQL Server Business Intelligence Developer
Business Intelligence Consultant
If you are planning to build a career in business intelligence, you are taking a step in the right direction. With the continued growth and emerging promises in this space, it's an excellent field to carve a career path.

From developing software to planning projects, a broad range of job roles that need diverse skill-sets, come under the BI umbrella. Skills and expertise in SQL, analytical abilities, basic programming, and relational database management, etc. are needed to mark this field.

To jump-start, a career in this emerging technology, enroll for Simplilearn's Power BI training course.

Simplilearn not only provides theoretical knowledge but also allows you to have hands-on experience in related technologies. With Simplilearn's BI course, you can arm yourself with a certification that will give you an edge over your competitors.

["source=simplilearn"]