As organic fresh produce goes, so goes the category. And it is going well. Organic fruits and vegetables now account for 36.3% of all organic food sales, according to the Organic Trade Association's 2019 Organic Industry Survey.
And organic fresh produce sales are still increasing at a rate far above all produce sales. Organic fresh produce notched a 7.9% sales gain at retail in 2018, according to IRI/FreshLook Marketing. That compares with a 2.85% gain for all produce sales in 2018.
The Packer's Organic Fresh Trends 2020, as analyzed by editor Janice M. Kresin, reveals rich detail on commodity preferences for organic produce in general and specific commodities in particular.
Here are a few highlights:
27% of consumers surveyed in Organic Fresh Trends 2020 said they always bought certain items as organic;
Asian shoppers are more likely than those in other demographic groups to buy organic fresh fruits and vegetables overall;
43% of shoppers said they selected organic kale at least some of the time; and
46% of consumers reported they would buy organic fruits and vegetables if price was not an issue. Of course, that is just a tempting sample of what you will find as you explore these pages. Fresh Trends surveyed well more than 1,000 consumers to pull these new insights on organic produce trends, and the entire supply chain will benefit from the insights brought into focus by this 2020 edition of Organic Fresh Trends.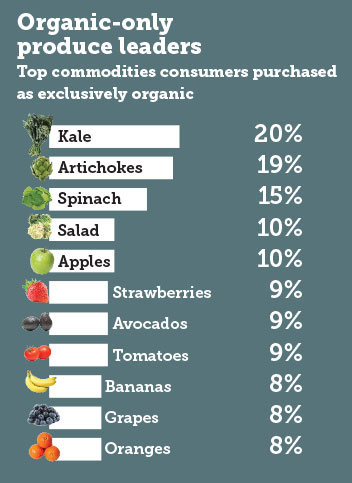 ["source=thepacker"]