<p>(First image) Jury members: (L to R) Rahul Mishra, Nikhil Mehra and Shantanu Mehra<br>(Second image) Finali…Read More
Numerous stories of determination, dedication and willpower left the judges impressed at the jury meet for Times She UnLTD. Awards in Delhi. The jury meet for the three categories – food, fashion and beauty – was held in Dwarka. Shortlisted participants from all three categories shared interesting stories of how they beat the odds to make their businesses a success.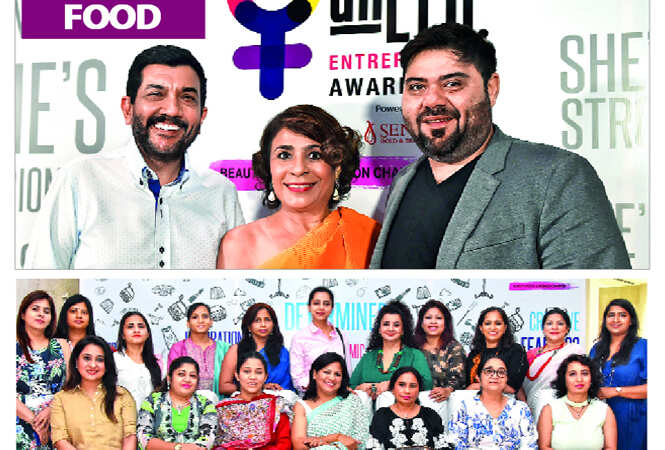 (First image) Jury members: (L to R) Sanjeev Kapoor, Rashmi Uday Singh and Riyaaz Amlani
(Second image) Finalists for the food category
Meet the foodpreneurs
From organic farming to coming up with a range of tea and healthy snacks for kids, women from different walks of life had interesting ideas to share with the panel of judges – restaurateur Riyaaz Amlani, chef Sanjeev Kapoor and food critic Rashmi Uday Singh. Talking about their experience of interacting with shortlisted candidates, Sanjeev said it was amazing to see how many female entrepreneurs from Delhi met tough challenges, but didn't give up on their businesses. "Though women go through hardships and face challenges at so many levels, they are doing so wonderfully well in their businesses. This was very encouraging to know," said Sanjeev. Riyaaz added, "It's been extremely rewarding and enriching to meet this kind of fantastic talent in Delhi. I have always been a huge fan of women who have to overcome the odds just to get into business. To see this kind of determination was fantastic. There were so many people doing such amazing things. There was a lady who came up with the idea of a vending machine with healthy food. I thought that was simply fabulous. There were moms who have created healthy snacks lines for children. The sheer variety and range of ideas and determination that we witnessed was fantastic." Rashmi agreed with Riyaaz and said, "I think the vast range of entrepreneurship, creativity and innovation was very exciting. The range of ideas we got in Delhi was enormous."
Ideas from fashion entrepreneurs
Designer duo Shantanu and Nikhil Mehra, and Rahul Mishra were the jury members for the fashion category. The judges said that it was a learning experience for them as well to meet contestants who came from diverse backgrounds. Designer Rahul Mishra said, "It was an amazing experience to see people from all walks of life participating here. They came from diverse backgrounds. All presentations were inspiring. Their clarity of mind in business ideas was impressive." Nikhil added, "Entrepreneurs here are fierce, focussed and we also learnt a few things from them." Shantanu said that some presentations were so well-researched and thought-out that they might prove to be a gamechanger in the industry soon. "Though every presentation was impressive, there was one particular concept that was mind-blowing. It was a pleasure to see her match the research, creativity and execute her business," said Shantanu.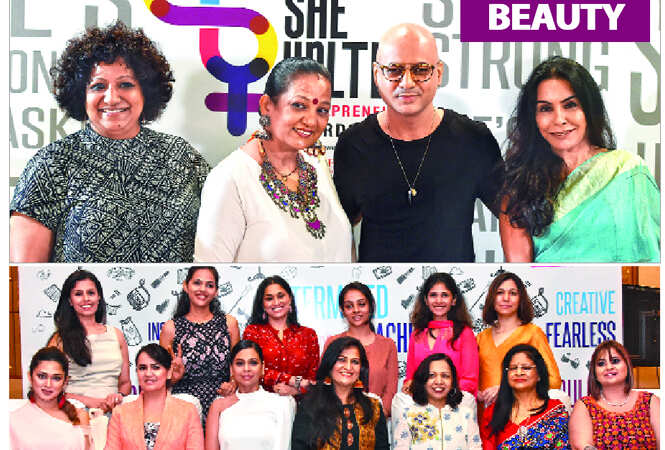 (First image) Jury members: (L to R) Ambika Pillai, Dorris Godambe, Aalim Hakim and Harjinder Kaur Talwar
(Second image) Finalists for the beauty category
Making a mark in beauty sector
'Organic, herbal and ayurveda' ruled the last day in the beauty category. Sixteen participants with different business plans and ideas came to impress the jury. Ambika Pillai, celebrity make-up artist and hairstylist, Dorris Godambe, celebrity hairstylist, Aalim Hakim, celebrity hairstylist, and Harjinder Kaur Talwar, national president, FICCI Ladies Organisation, were the jury members. "It is a fantastic platform where women can showcase their work. If they win through this platform, the whole country will get to know them. Their journey is beautiful and everybody has got a back story and they are the hero of their own stories," said Aalim. Dorris added, "It is an encouraging platform for all the women who came and presented their business plans. It takes guts to speak in front of a jury and these contestants were able to do that."
Ambika, however, said that she is looking for an underdog. "I am looking for that path-breaking story. This is just the right platform for a woman to stand out there and make a point in six minutes, which is not easy," she said. Harjinder appreciated the confidence of these participants and shared, "Each one of them taught us that organic is the way in this industry. What they now need is a sound business plan. The confidence was mind-blowing; they were being bombarded with questions but all of them took it in their stride and that's what matters."
["source=timesofindia.indiatimes"]