"This version of DK is all that he ever wanted to be"
R Ashwin's tweet earlier this year sums up everything about his state-mate Dinesh Karthik's transformation into many things he wasn't known for in the past. The Karthik of the past was known to be as talented as any other batsman in the circuit, but was also considered fidgety and restless. It led to inconsistency – in the chances he got, and his own performances.
Whether the two were related or not was up for debate, but as the years flew by, there was a danger of Karthik's talent being wasted.
That has changed a little over the last couple of years. A stellar domestic season in 2016-17 got him back in the national set-up mid-2017. Since then, he has played 20 ODIs and 21 T20Is apart from making a brief comeback to the Test side after more than eight years. The consistent string of matches resulted in something he wasn't exactly known for – consistent results.
Since his return, Karthik averages 47.22 from 17 ODI innings, having scored 425 runs with two half-centuries. The T20I record is even better – an average close to 70, a strike-rate above 150, and eight not outs from 11 innings. This, at a time when the competition for spots in the Indian batting line up is huge.
Is Ashwin's assessment right?
"Yeah definitely. I'm trying to achieve that, let's put it that way," Karthik tells Cricketnext. "Everything's changed (in the last couple of years). The technique, the mental preparation, the way you prepare in practice. All that helps you in reaching that goal."
One of the notable aspects of Karthik's batting these days is the calmness he brings to proceedings, even in mad T20 finishes. It's an adjective that was hardly used with Karthik of the past, but it hasn't come at the cost of his 'restlessness', according to him.
"When you're in the middle playing a pressure situation, it's important to at times stay as calm as you can," he says. "Still off the field, a lot of people still call me restless and all that, so I've not changed much as a person. But when I bat in the middle, I do give a sense, at least it looks from the outside that I'm a lot more calmer."
It's in line with what Karthik told this writer after the bumper 2016-17 season when he scored 854 runs from 12 List A innings. Karthik still has all the fidgety features and superstitions about his batting – he backs away and squats with eyes closed before facing his first ball, he taps the side of the pitch after every over.
"Being restless is something that's very me," he had said. "I have all my set of restless rituals before the bowler starts his run-up but once he does, I think I'm in decent space. All those nervy things that look very restless from outside is very Dinesh Karthik. I don't think I can change it, and I don't want to change it as well."
The dual feature of newfound calmness while balancing his innate qualities is reflected in his batting in the two limited-overs formats. In T20Is, Karthik blazes from the word go, smashing at a strike-rate above 150. It all started with the Nidahas Trophy final last year, and extended into similar knocks in Australia and New Zealand this year as well.
Source: AFP
In ODIs, though, Karthik's role has varied in the last two years. For the initial part, he was tested at No. 4; in nine innings in that position, Karthik scored 264 runs at an average of 52.8. The emergence of Ambati Rayudu, coupled with his own success in the lower-middle order in T20s saw that role change in ODIs as well.
"I've been given a lot of opportunities in T20 batting at that number (six)," he explains. "Though in one-day cricket I think it's far more flexible. Even in their (team management) mind, it's far more flexible that I can bat anywhere depending on what is required in a certain situation or where they want me to bat in a certain match. I've played a lot of the last few T20 matches batting at 6 and 7.
"In ODI cricket when you bat higher up it's hard to have a strike-rate above 100 consistently over a period of time. It's hard to achieve that, but what you can do is keep it in the 90s where you almost play a run a ball and it kind of helps your team, shows intent and helps you win matches. I think a lot of what batting is all about is adaptability. Adapting to situations. When you bat at 6 and 7, you need to understand the situation and react accordingly. When you're batting at 3 or 4 in an ODI, you have to a lot of times absorb pressure at that stage which is a lot different to what it is at No. 6. Batting position as such doesn't matter."
Karthik is now seen as a finisher in both formats. His credentials and position in the T20 side are unquestionable, but his ODI spot is yet to be sealed completely.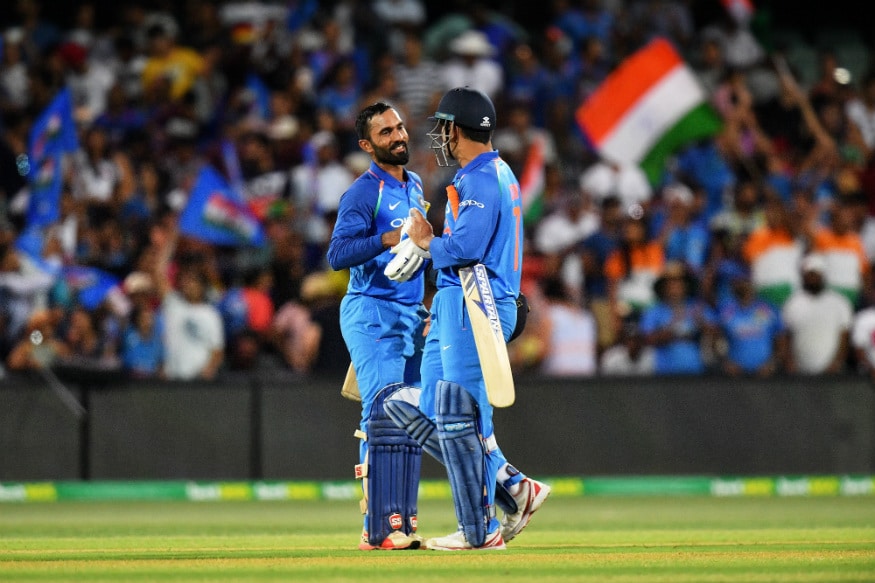 Source: AP
His T20 success in some ways has resulted in perceptions that he's more of a hitter than an accumulator. That's not with reason, though; Karthik's strike-rate in ODIs during this period is 75.22, more because he was playing the situation than the inability to score quicker. He has also played more than half of his knocks from No. 4 – not the position of a 'hitter'.
His average while chasing since 2017 is 82.5, largely helped by seven not outs from 11 innings. Eight of those knocks came in successful chases, while one came in a tie against Afghanistan in the Asia Cup.
Some of these have been crucial knocks, like the 14-ball 25* against Australia in Adelaide. Many others have been composed second-fiddle knocks in moderate chases. But what's prevented Karthik from sealing a spot completely is perhaps the absence of that one big/decisive knock – something like an ODI equivalent of the Nidahas Trophy final chase.
To be fair, such situations have been rare and far apart. Karthik has batted in the first innings only six times since his comeback, spread apart from October 2017 to January 2019. It includes a couple of 30s and a 21, apart from a couple of ducks with the latest being Hamilton when India folded for 92. These are perhaps opportunities that could have been converted into 'big knock', but Karthik isn't losing sleep over it.
"I don't look at it that way. It's hard to run behind one big knock as a batsman," he says. "As a player, you need to keep a lot more focus on the processes and preparations. That will help you achieve that one knock or whatever it is. Because as soon as you start running behind one knock or one inning where you want to change things for yourself, it might not happen exactly the way you want it to happen. Whereas if you focus on the process and preparation, in terms of trying to become the best player you can be, eventually these things will manifest into what you want."
In other words, Karthik is at peace with, or calm and confident about his role in the setup. It's this calmness that has given him a second wind in his career.
["source=news18"]